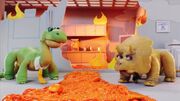 Volcano is the seventh and final episode of Season 1 on Dinosaur Office.
Description
Edit
Disaster preparedness is important. Rawr!
Transcript
Edit
Todd: Can you believe this weather?
Craig: I didn't need a coat yesterday, but today, I needed a coat.
Todd: It's not even the temperature—it's the windchill. (Todd and Craig feel the vibration of a volcano) Ah, must be the monthly volcano drill—what a waste of time.
Craig: I'm not going anywhere.
Todd: Let's not let it ruin our conversation. (smoke scatters all over the office) I can't believe it's only Tuesday—it feels like such a Thursday! (ceiling falls apart)
Craig: So, how's your garden? (Wall starts falling apart)
Todd: I have more cucumbers and I know what to do it. (lava flows)
Craig: Talk about a good problem!
Terry: Hey, guys. Even if this is a drill, I need you to take it seriously, I know, I know. Now let's head outside so we can get ahead, can—Whoop… (starts panicking while burned alive; throws a microwave)
Craig: Fine—I'll grab my coat.
Todd: I guess I'll just be cold. (follows Craig, but falls in lava) Ah! This is the worst thing imaginable! (lava falls over Todd) My cell phone is ruined!
The episode is known on CollegeHumor as Volcano Drill and on YouTube as Drill. CollegeHumor replaces the description on Nintendo Video's Cocktail Hour with "The dinos discuss fire safety. Rawr!" and YouTube replaces the description on the application's block with "A drill has had enough of the company. Rawr!"