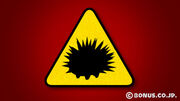 Kate&Karen, originally called Meat or Die, is the seventh episode of Season 1 and the seventh episode on Meat or Die.
Description
Edit
Once upon a time in the future, there are two hungry dinosaurs…
Meet Yans and Gans. They're not too smart. But they're hungry and hunting for meat! Will they ever fill their bellies?